Harry Ford (one of my students from NYU's Graduate Acting Program), just completed filming his first TV show, "Code Black" and he was terrific. He came to NYU to be on a panel of alums who talked to the actors who were Called Back to the final audition of the Grad Acting Program. The panel is an opportunity for the auditioners to ask questions about the program as well as find out about the alums' work on Broadway, TV and films.
Code Black is an American medical drama television series. The show centers on the fictional Angels Memorial Hospital, where four first-year residents and their colleagues must tend to patients in an understaffed, busy emergency room that lacks sufficient resources.
Harry Ford plays Dr. Angus Leighton, a first-year resident. His father is on the hospital board, and feels overshadowed by that and by his older brother, a former resident, but slowly grows in confidence.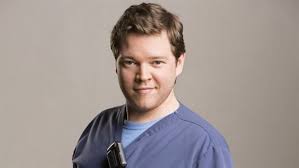 Harry Ford