Well that was a fun evening in the theatre! Watching Bernhardt Hamlet on Broadway with three of former students from NYU Grad Acting – Jason Butler Harner, Matt Saldivar, and Aaron Costas Ganis.  The star of the show is one of my all time favorite actors – Janet McTeer. I have seen her in many shows at the Royal Shakespeare Company in Stratford Upon Avon as well as on Broadway in her Tony winning performance in "A Doll's House", "Mary Stuart", and "Les Liaisons Dangereuses" and in the films "Sense and Sensibility", "Tumbleweeds" and "Maleficent".
For my students to get to rehearse and now perform in Bernhardt Hamlet on Broadway with her is wonderful.  This is a new play by Theresa Rebeck who researched not only Sarah Bernhardt's performances but also her relationship with the playwright, Edmond Rostand who was her lover and perhaps best known for his play "Cyrano de Bergerac".  She became an international star and first toured London and the United States and then around the world.  She is often considered the "world's first celebrity".  Her roles included the ingénue Marguerite in "Camille" which she continued playing into her 60s, Roxane in "Cyrano de Bergerac", Medea, Cleopatra, Desdemona, and Ophelia.
What she did off stage contributed to her notoriety. She had many love affairs which the public found fascinating, had a pet tiger, slept in a satin lined coffin, and traveled with 250 pairs of shoes.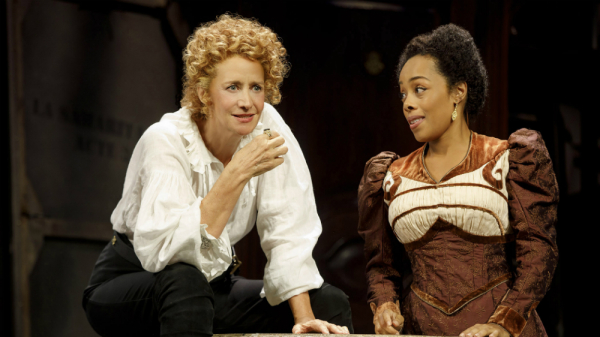 Bernhardt Hamlet on Broadway